One of the most useful accessories I've bought recently is Olympus' delightful
EE-1 Dot Sight Viewer
, shown below on my
E-M1 III
and
100-400mm
lens.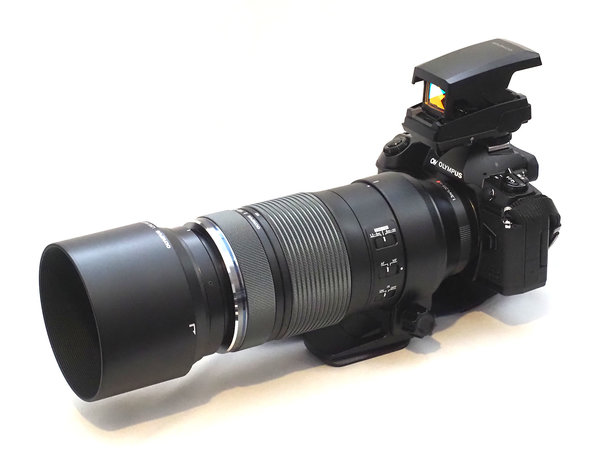 Normally one would use it with a fixed long telephoto but it works pretty well too on the long zoom provided that you calibrate it for the longer setting. It takes just a few seconds to calibrate for any lens - it is helpful if you can use a tripod or similar stand to steady the camera and lens while doing this. You simply focus on a specific object and then, using the EE-1's small control wheels, gradually align the red cross-hair with it and you are ready to go. It works like the old sports-finders you used to get on medium format film cameras like the Mamiya 645. If you are tracking something like a bird flying at speed, it is easier to use the EE-1 to cmpose your shot than trying to use the viewfinder or screen. This is because you can keep a little more distance from the camera which makes composition and awareness of the object relative to its background easier to judge. Just keep the cross-hair on the object and fire away.
I've used it on Olympus cameras, my
Contax 645/Hasselblad Ixpress
digital back/
Mamiya 645 500mm
lens combination,
Canon EOS 6D
with C/Y
Zeiss 500 f4.5 Mirotar
and other kits including a
Nikon DSLR
. You too can use it with
any
camera & long lens outfit provided the camera has a hot/cold shoe.
The Dot Sight Viewer is powered by a single CR2032 lithium battery and is splash/dust resistant.